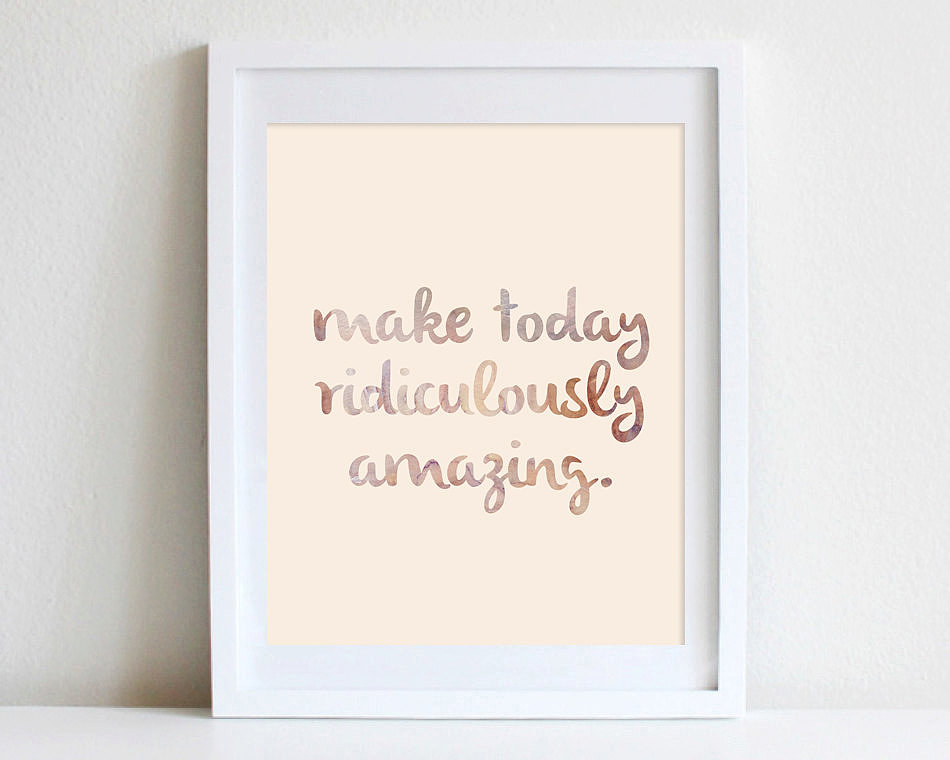 Hi lovelies! Sorry I've abandoned you all a little this week, I've been feeling seriously crappy due to a very inconvenient viral infection and am currently off work sulking about having to stay in bed. Sick days are just not the same when you're actually sick. Not like when you were in school and faked sick to stay off and play The Sims all day (admit it, you did it too). So, I didn't want to leave you guys without a blog post, but I'm so not up for photographing/ reviewing/ generally having to do anything for more than 5 minutes today, so I thought I'd share this post I wrote a little while ago that for some reason has sat in my drafts for quite some time! This post is all about how to have a better day (something I could do with right now).
Sometimes, there is nothing better than spending a day off work, school, uni etc, just doing nothing. Having a super lazy duvet day, where all you do is watch trashy daytime TV, scroll through the internet, burn candles and have bubble baths. Every once in a while, we all need those days. However, I've found that what makes those days so special, is when they really only are are every once in a while. If like me, you have a job that isn't a regular 9-5, or perhaps you're at uni or college and have random days off in the week, you may find that your 'do nothing' days, become a little more of a regular thing than usual.
Sometimes, too many chillout days can leave you feeling a little bored and sometimes, being productive and getting things done feels much better. So, if your job or education means you have one or two days to yourself during the week, or you have a couple of free weekends and you want to spend them doing a little more than nothing, I've put together a list of things I like to do on my clear diary days!
Start Something New
By this, I don't mean a new series on Netflix people! For me, this was my blog. When I began Chloe's Way, I was in college with a part time job, but still had a fair bit of free time on my hands. If you're not already a blogger, a blog is a great use of your free time and once you get going, you can spend as little or a much time as you like on it. If that's not your thing, or if you're already a blogger, why not take up a new hobby, or start something you've been meaning to for a long time. Perhaps you want to start exercising more, eating better, redecorating, this is the time to get started! Plan what it is you want to do and take action!
Have a Blogging Day
For bloggers, which I'm sure many of you reading this are, this one is a great one. Sometimes if I have a free day, I'll take photos of all the products I want to talk about on my blog, I'll write lists of blog posts I want to do in the near future, I answer any emails I haven't had time to reply to and I write. Free days are soon over and when the busier days roll around again, I find it incredibly useful to have lots of blog posts saved ready to be published when I need them.
Get Organised
You know that big pile of old shoes gathering dust at the bottom of your wardrobe? Now is the time to get it sorted! Perhaps your makeup collection needs sorting out, or your wardrobe needs a clear out, even sorting through old files on your laptop! When your house or bedroom is organised and tidy, it makes it a much nicer to place to live and work. So go on, get started on that underwear drawer!
Workout!
This is an obvious one, but a free day is a great time to start a fitness plan if you don't already have one, but want to start. Finding the time to exercise is never easy (see my updated fitness routine post for more on this!), but if you have a day that you know you're going to have free every week (even better if it's more than one day), then plan to get up and workout for an hour, or more if you can take it! Then use your spare time to plan shorter workouts for busier days. Find 10 minute workout videos, or create a fitness chart or journal to track and organise your workouts, this way you'll have no excuses later in the week.
Get in Touch
Haven't spoken to your Nan in a while? Is there an old friend you'd really like to spend more time with? If you know that someone else is free on your free day, meet up, or phone them for a chat. Even if you just take some time out of your day to write an email or Facebook message to someone you need to catch up with, it's one more thing to tick off your to do list and you'll feel much better for it.
Plan Presents
Love it or hate it, Christmas time will soon be upon us. If like me, you're one of those people who says 'Okay, I'm going to be really organised this year.', then ends up doing a mad rush in the last few weeks before the big day, actually do it! Spreading out the cost (and stress!) of Christmas over a few months means you'll be much more organised and able to enjoy the festive time of year when it eventually does roll around. Write lists, start buying stocking fillers, stock up on wrapping paper and hey, you could even compile a little wishlist yourself, so when friends and family ask what you want this year, you can actually give them answer, you'll get what you really want and they'll thank you for it!
Give Yourself Something to Look Forward To
If you're a little bored, or need a bit of a pick me up, start planning for something. Personally, I like always having something to look forward to, big or small. This could be anything from planning to go out for dinner when your Boyfriend finishes work, to booking in for a haircut, to planning a holiday! Even if you don't have the cash right now, looking at holiday destinations and planning months in advance is always lots of fun!
Pamper Yourself
As we're having a productive day, I don't mean sit for hours in the bath, then laze around watching tv for the rest of the day. What I mean is, do all the little things you've been meaning to do, but never get round to. Productive can mean doing nice things too! Why not properly shape your brows, do a full, thorough fake tan, paint your nails and toenails, give yourself an intense pedicure, deep condition your hair. Your body will thank you and it's one less thing to do on busy days.
So, those are just a few things I like to do on my days off.
Let me know what you think, how do you like to spend your free time?